THE SOFTWARE YOUR PEOPLE DESERVE
Our core offering is designed to help you manage your HR functions in The Middle East, and upgrade the way you work. You and your people deserve to have a software that works for them.
Payroll Management
This flexible, robust payroll solution caters for a comprehensive range of payroll calculations, which can be run your payroll directly from our centralized Payroll Dashboard.
Company Setup
Set up all elements of your company in one place, along with multiple company set ups based on country or entity with their own unique HR policies and Labour Laws. 
HR Admin
Save time and money with our HR Admin Module. Manage your employees and their data all in one place, including your company structure and standard company letters.
System Admin
Manage user access permission to ensure security of your employees data based on segregation of duty and workflow needs, along with so much more.
Leave Management
Our most complex and powerful module in our solution offering. Set, manage and approve leave requests from your workforce and send direct notifications to employees.
Document Management & Reporting
Throw away the filing cabinets and electronically upload and manage all your employee and company documentation.
Bulk Data Upload Engine
Upload bulk data files into the system such as employee information and existing company data
Multiple Languages
Choose to view the system in either English or Arabic whilst in the system for instant translation.
User Management
Manage system users from the system admin panel and authorize password change requests and user access rights
Full whitelabelling
Change the system layout and name along with system design to truly become your HRMS system.
Looking for something else? Take a look at our Additional Modules

Introducing your new, painless payroll processing system. Our flexible, robust payroll solution caters for a comprehensive range of payroll calculations.
Our Payroll engine is so powerful and is built exclusively for The Middle East region. It simplifies the legislation & complexities of each region of The Middle East making sure multi national and multi currency payroll is always accurate and on time. Manage transactions and calculations that is supported by advanced setups.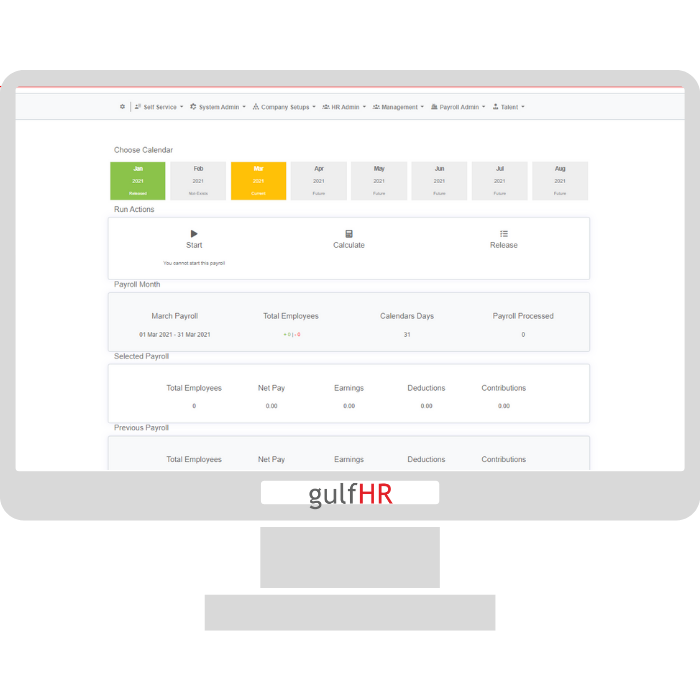 START, CALCULATE, VERIFY AND RELEASE
Manage your payroll from our centralized dashboard. Start your payroll, calculate it, verify it and release your payment, all in one simple, easy click.

COMPARE
Have an instant view of payroll changes from the previous month to the current month net pay.

COMPLETE PAYROLL REPORTING
Access a full suite of payroll reports, from gross to net, WPS, bank file, gratuity accrual, financial GL reporting and so much more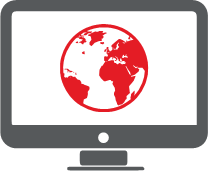 STAY COMPLIANT
Statutory compliance based on country-specific requirements that can be customized with your company HR rules.

  All monthly payroll elements

Processing of staff loans and scheduling of loan payments

  Tax calculations

  GL interface facility

  Time and attendance approvals and integration

  Salary advance payments while on leave

  System generated password protected payslips

  Indemnity and leave liability provisions

  Multiple payroll runs

Take leave management to the next level with our leave management module. Approve and manage all leave requests with the click of a button for a seamless experience, either from our desktop application or through our mobile application.
Create leave types and payroll elements that can be stored in leave calendar for your workforce planning.

CREATE FLEXIBLE LEAVE SCHEMES
Flexible leave schemes and rules for all leave types (Annual Leave, Sick Leave, Unpaid Leave etc) can be defined to comply with different leave policies and country legislative requirements including leave portions for annual leave, maternity leave, sick leave etc.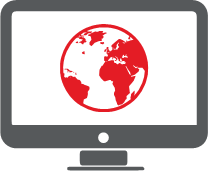 MANAGE AND APPROVE LEAVE
  Plan leave calendars, approve, delete and replicate employees leave requests that can be added directly in to your leave management overview calendar, and add alternate approver in workflow management when needed.

DAYS IN LIEU MANAGEMENT AND APPROVAL
Manage leave entitlements including days in lieu in accordance with your own company HR policies.

ATTACH SUPPORTING LEAVE DOCUMENTS
Employees can upload supporting leave documents when needed, which goes directly to the inbox of the approver, to manage in one place.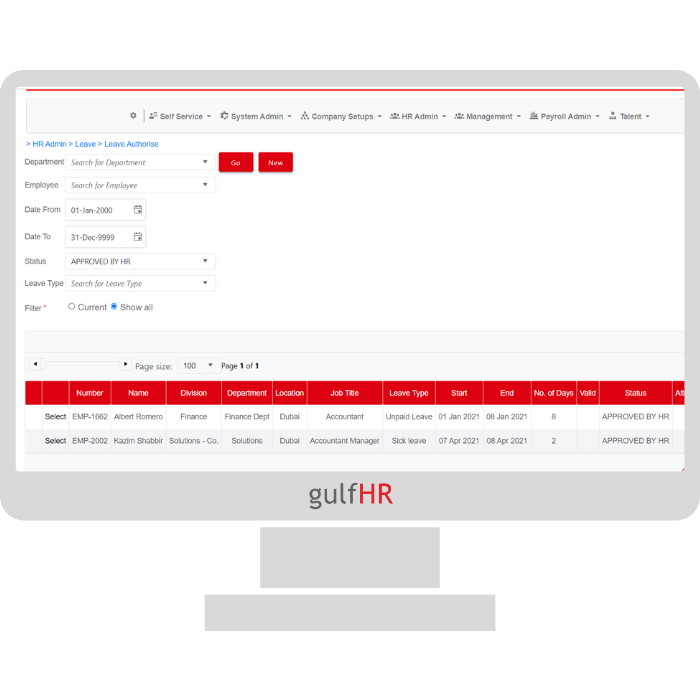 Leave entitlement calculations

  Leave portions

  Integration with organizational structure and payroll management

  Multiple leave calendars

  Flexible leave schemes

  Leave reporting

HR admin means being in charge of all the moving parts of your company-your employees. Manage it all in one place with our HR admin module. Create your company organization structure, transfer and promote employees, plan and approve leave and so much more. 
View and manage your employees the smart way and use our effective dynamic reporting to view your HR data in real-time for true HR digital transformation with gulfHR.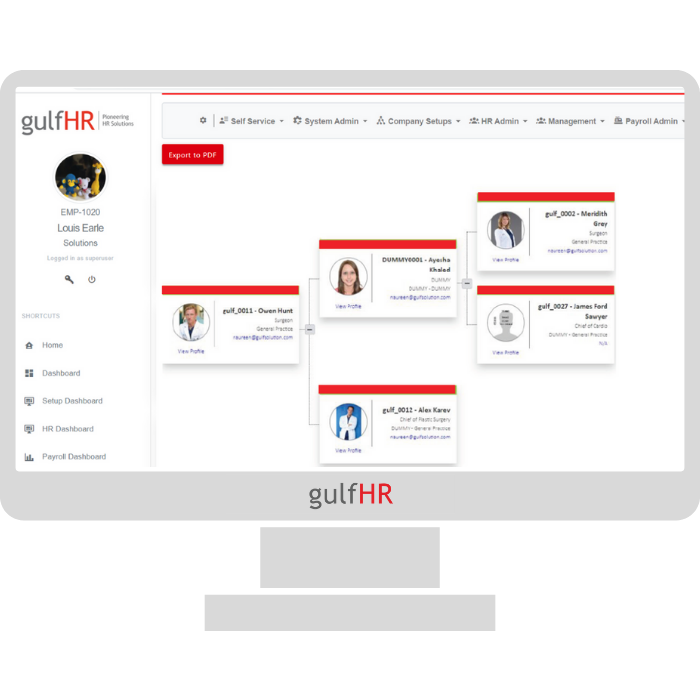 ORGANISATION STRUCTURE MANAGEMENT
Define and organize your company structure as per the layers of your organisations management. Create hierarchy based on job title and visually represent this with ease.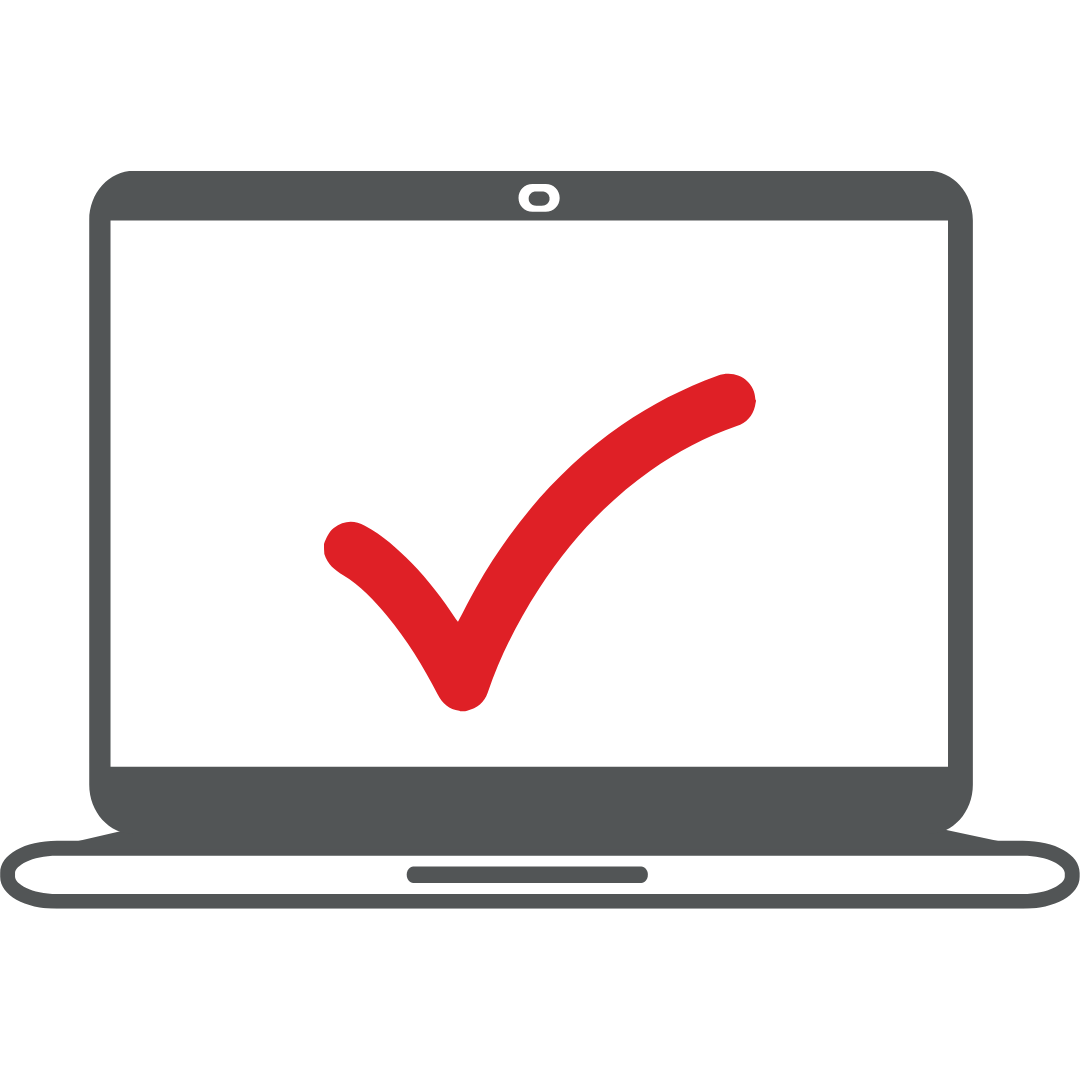 ONLINE APPROVAL WORKFLOW
Define layers of approval to create a maker checker for HR requests and transactions.

MANAGE DOCUMENT EXPIRY
Set up automated emails to notify you when employee documents are due to expire and work proactively instead or reactively.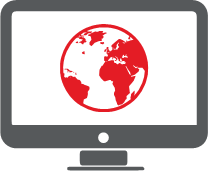 DEFINE HR POLICIES
Full autonomy on system set up to perfectly match your companies existing policies such as WPS sponsors, leave types, employee benefits and more.

View and mark public holidays

Send Employee buzzers

Manage and issue company and employee letters

Manage employee data

Assign and manage employee accommodation

Assign alternate approval roles

Manage landing page and dashboard

  Workflow Management

  & All other HR administrative tasks!
Document Management

Electronic upload of employees documents

Unique key file structure

Secure attachment storage

Available in all modules with employee-related screens
Reporting

Expansive reporting function

Dynamic reporting to build custom reports

extract reports to Excel (.xlsx) and Word (.docx)

Extract and sort fields for custom reporting
Looking to add more functionality to your HRMS? Check out our additional modules that are fully customizable to meet your requirements!
Empower your employees and take requests on the go with our self-service module, supported on desktop and by mobile app.
"The team at gulfHR are great! The project manager (Shabbir) always made himself available to help us at any time during our implementation, even when he was on leave."
– Stefenie Heidester, HRD ThyssenKrupp
We're shaping the future of HR in the Middle East
Helpdesk tickets resolved (and counting)
TRUSTED BY OVER 100+ CLIENTS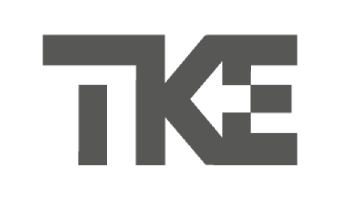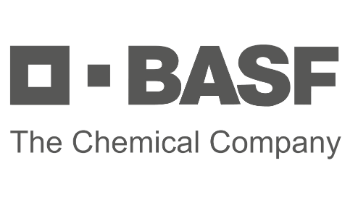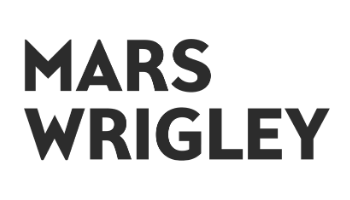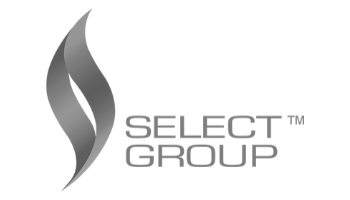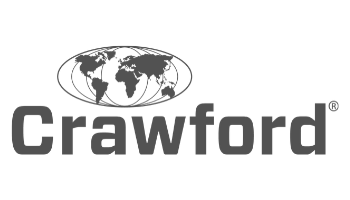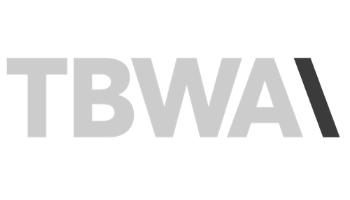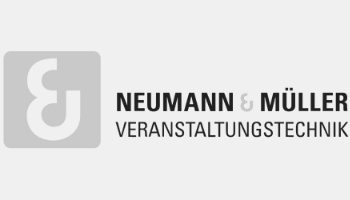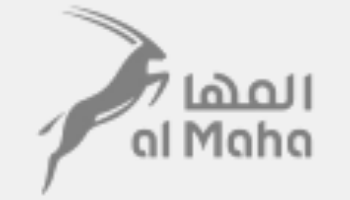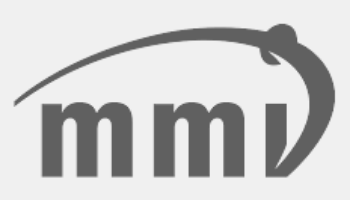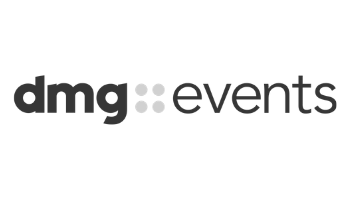 GAIN INSTANT ACCESS TO OUR PLATFORM
The most established and successful businesses operating in the Middle East use gulfHR. Find out why Startups, Bluechips, and the Fortune 500 trust gulfHR as their HRMS provider.
Try the expert demo now to see the latest HR features and development in action.
Let's talk. We're only a call away
Find out why our clients can contact us at anytime and speak to one of our experts. Give us a call on +971 4 446 6308. Or request a callback below at your convenience.
Alternatively send us a message or an email to [email protected]