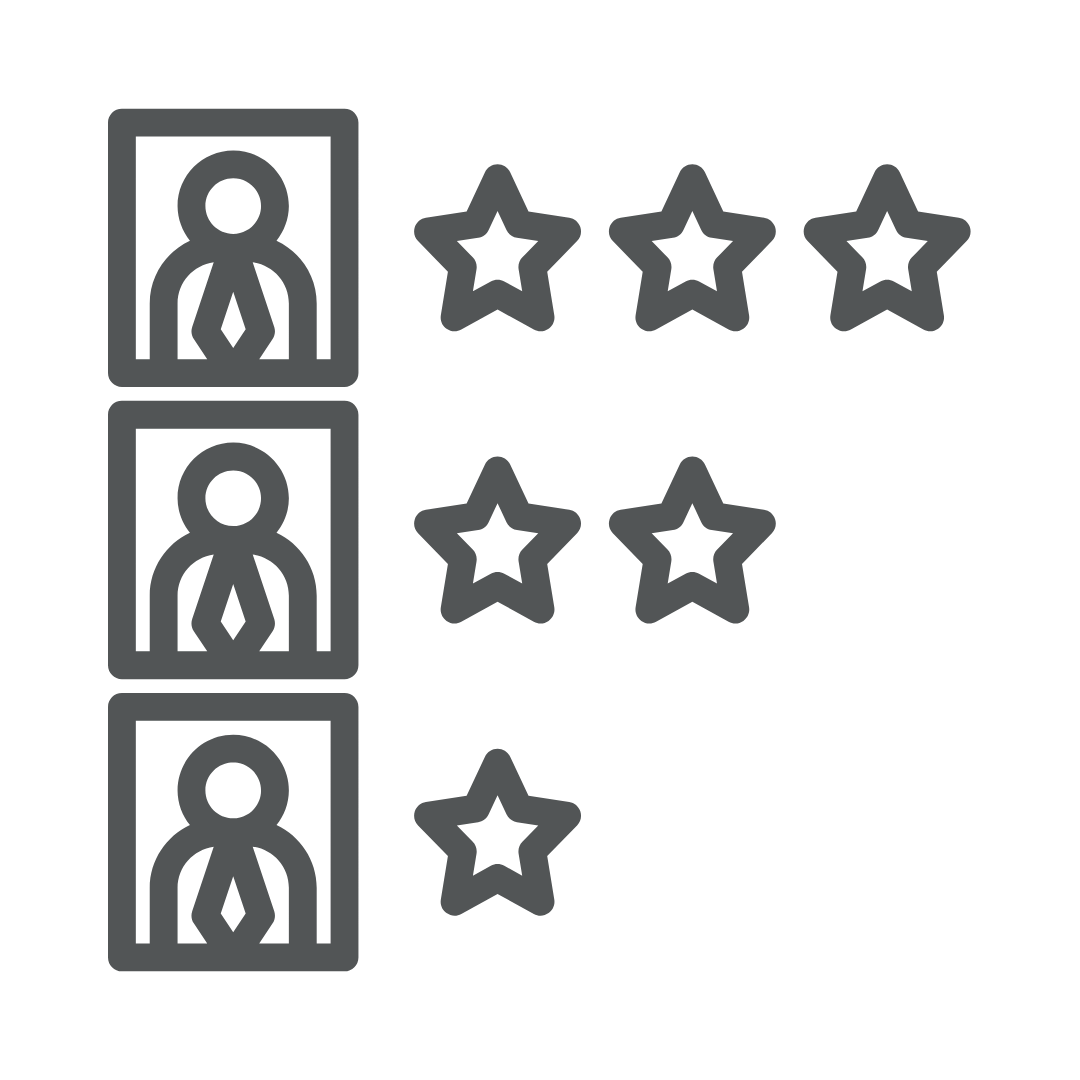 Whether you wish to review performance continuously or periodically; have a strategic focus or aim for succession planning; from permanent cadres to non-permanent and temporary resources.
PROGRESSIVE
Ongoing Feedback. Flexible goals and aligned with the Organisation. Collaborative and feedback driven. No focus on compare employees. Target dates for each objective.
STRATEGIC
Corporate Goals linked with Department & individual objective. Talent Profiles. Competencies. Living company values. Weighing for objectives, competencies, and values
SUCESSION
Succession plan. Midyear and assessment yearly. Objectives mapped to job title or department. No self assessment.
QUALITATIVE
Suitable for consulting and management roles.
Overall final rating.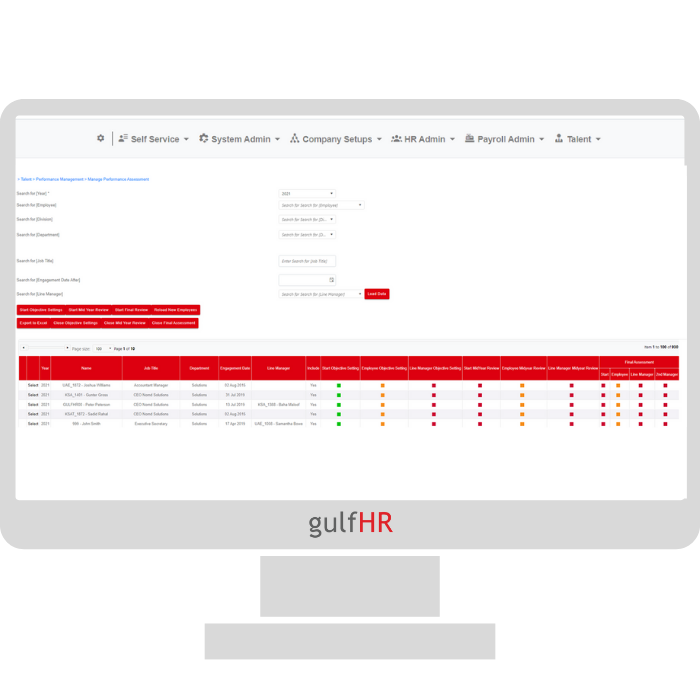 Define companies goals for the year and match employee KPIs to them

Set KPIs for individual employees or departments with KPI weightings

Assessment feedback and reporting – employee development recommendations

Online targets, self-assessment, manager assessment

360 competency questionnaire and assessment setup

Interface with training – requirements and availability of specific training courses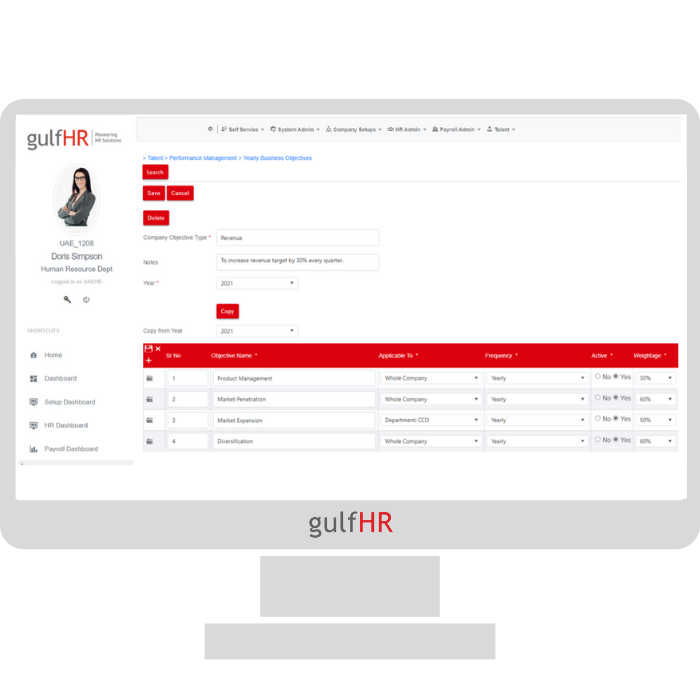 Corporate Objectives
During the setup of the performance management campaigns for the year, you can input the company corporate values for the year, along with the weightage (or importance) of each objective.
Company Values
Along with the corporate objectives for the year, you can add the companies values and during performance reviews, evaluate how well the employees live these.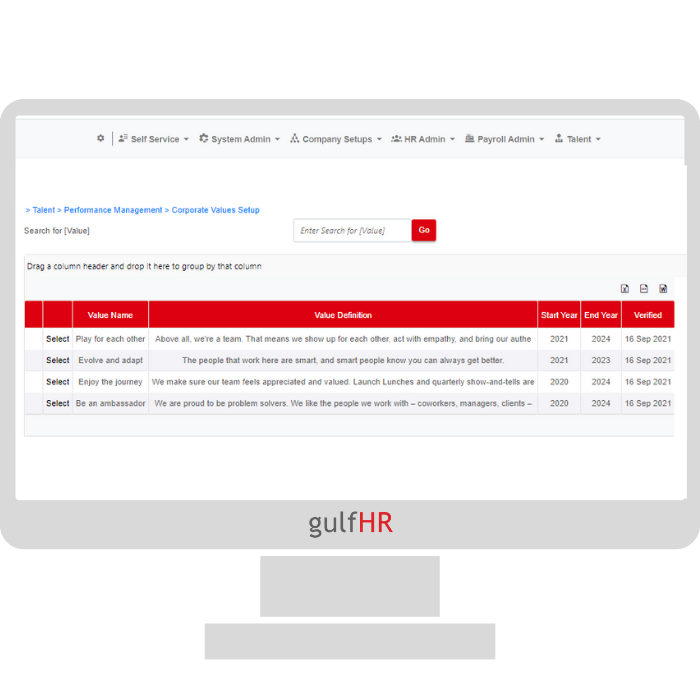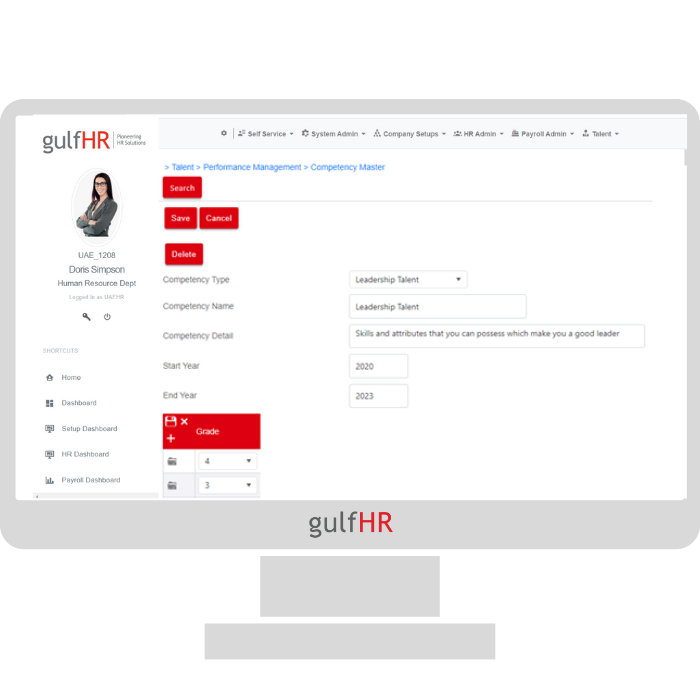 Talent Profiles (Competencies) 
Map both the behavioural and technical competencies to job titles, which can be categorized by seniority.
The system has a comprehensive library of job titles and competencies from a variety of industries that you can also benefit from.
Run Multiple Campaigns
Multiple campaigns can be run at the same time depending on department objectives, or more frequent assessments as well as yearly review.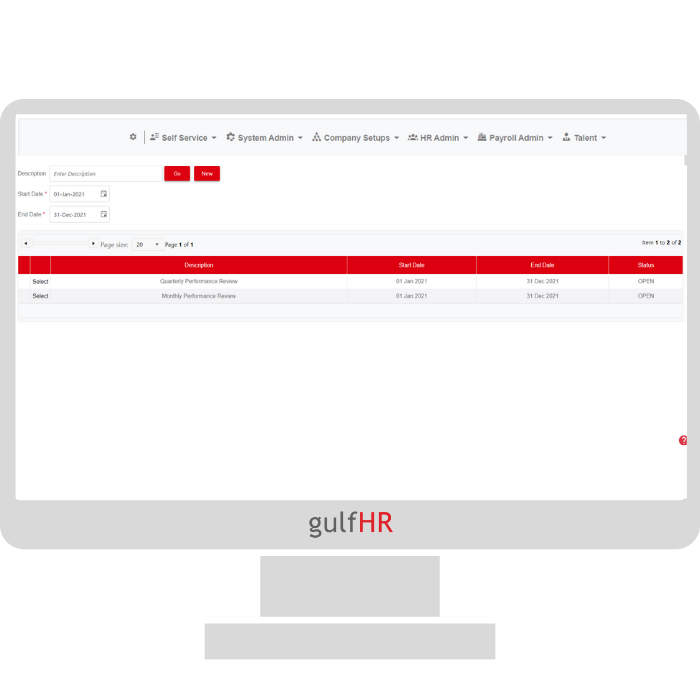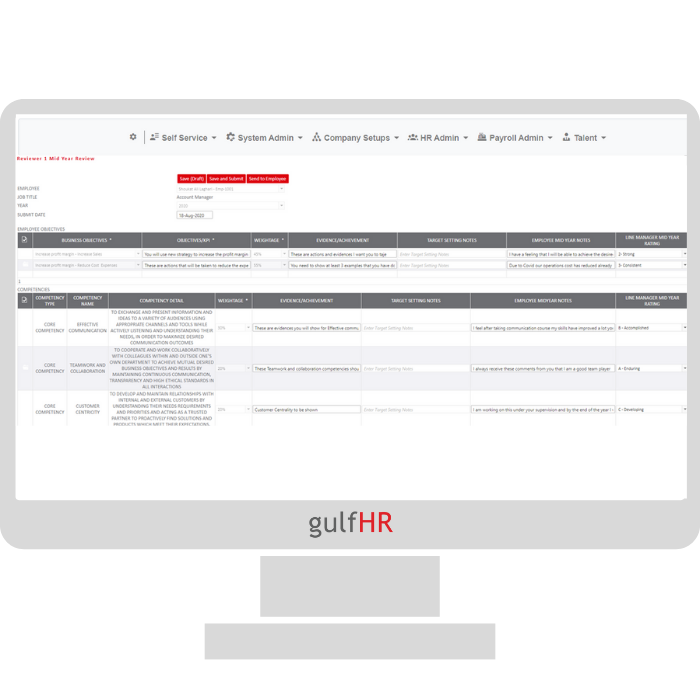 Seamless Process
Works with our Employee Self Service Portal for a truly digital, automated process.
Bulk Data Upload Engine
Upload bulk data files into the system such as employee information and existing company data
Multiple Languages
Choose to view the system in either English or Arabic whilst in the system for instant translation.
User Management
Manage system users from the system admin panel and authorize password change requests and user access rights
Full whitelabelling
Change the system layout and name along with system design to truly become your HRMS system.
GAIN INSTANT ACCESS TO OUR PLATFORM
The most established and successful businesses operating in the Middle East use gulfHR. Find out why Startups, Bluechips, and the Fortune 500 trust gulfHR as their HRMS provider.
Try the expert demo now to see the latest HR features and development in action.
Let's talk. We're only a call away
Find out why our clients can contact us at anytime and speak to one of our experts. Give us a call on +971 4 446 6308. Or request a callback below at your convenience.
Alternativley send us a message or an email to [email protected] 
We're shaping the future of HR in the Middle East
Helpdesk tickets resolved (and counting)
TRUSTED BY OVER 1000+ CLIENTS