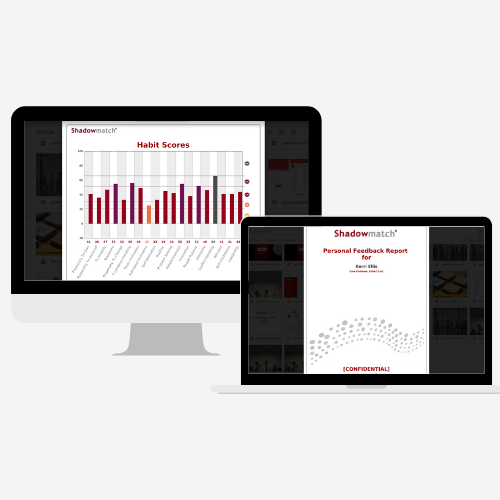 Shadowmatch is an online workforce optimisation system that maps behavioural patterns, better known as habits.
Shadowmatch is an online workforce optimisation system that maps behavioural patterns, better known as habits. Because it is an online system, you don't need any software or licences to use the product. 
Shadowmatch is successfully used by companies, coaches, psychometrists and psychologists for precision recruitment, understanding the unique behaviour of an individual, for development of people, team analysis, team on-boarding and team building.  Shadowmatch is also successfully used for leadership identification, succession planning, redeployment of staff, coaching, relationship management (at work and in personal life) and day-to-day management of staff.
Shadowmatch Business Applications
Place people to thrive and reach their goals.
Shadowmatch takes a very unique but reliable approach by using top performers in a business to determine who will be best for that job when recruiting and placing people in a specific workplace environment.
The Shadowmatch system draws a map of behavioural patterns or habits present in the lives of people. It is a positive and rewarding experience for individuals to better understand their own habits and it is a reliable way of predicting future behaviour.
The system is very successfully used in placing people in a specific working environment based on (amongst other criteria) the congruency between the habits of an individual and that of the top performing group that are successful in doing the job.
The system enables clients to redeploy employees to a department most fitting to their habits and by doing so optimise employee performance.
Finding the best people in a business to fill senior positions in a company and to start with specific development programs for such individuals is one of the core functions of Shadowmatch being used very successfully by our clients.
Many companies go through restructuring of the business from time to time. Shadowmatch provides a scientific framework to do this with minimal negative effects on the performance of employees.
Not any person in a leadership position can lead any team indiscriminately. Shadowmatch provides intelligence to ensure a good match between a leader and a team.
This can be a very frustrating process. By using Shadowmatch new teams can be analysed and integrated with each other successfully and individuals can be placed with teams where they fit best with the job and the people in that environment.
Employee Development Programs for optimal workplace success.
Personal Development Programs
Shadowmatch provides clients with experience based mentorship programs to help employees develop some critical habits necessary for success in a  job. Every job is an environment with unique demands. Shadowmatch provides each individual with a Development Program unique to  the habits of that individual.
The Personal Report provided by Shadowmatch is a very comprehensive document that provides the individual with information about his/ her habits. This insight results in a better understanding  of the self and how to improve personal success in the workplace.
If and when it happens that a manager must have a discussion with an employee about performance optimisation, the Shadowmatch system provides excellent reports to facilitate such discussions with the aim of helping the individual to experience workplace fulfilment and success.
Most people work as part of a team. Teams can develop very complex collective dynamics. Shadowmatch has the most powerful ability to analyse and inform team members about ways they could optimise personal and collective success in and with the team.
Coaching of employees with the aim to enable them as responsible corporate citizens and business owners, leaders and managers have become an imperative for many companies. Shadowmatch provides excellent programs towards reaching this goal. Just something interesting: Shadowmatch has found that employees who are part of a structured coaching program have a much less inclination to resign than those employees that are not part of such  a program.
Build and develop winning teams
Teams are complex collective entities and the dynamics are very challenging to comprehend. Behavioral diversity is a term that describes the difference or similarity of the individuals within a team.
 Shadowmatch provides a powerful team analysis and team development function that will not only optimise the success of your team but also the success of each individual team member. Your team results will precisely show you the level of behavioral diversity in your specific team, but it is important to understand that any level of diversity has it's own pro's and con's that can impact team performance.
Team Role & Group Analysis
The roles people play in teams are dynamic and it differs individually. Shadowmatch provides a profile of the preferred role of every individual in your team. Subgroups are behavior and relationship driven. The similarities and differences in behavior drive the subgroups and can provide important insight into the team such as …
An immediate snapshot of the behavioral composition of the team

Potential strengths and weaknesses in the team

Potential risk and conflict areas between team members
Where the manager can focus on management priorities to ensure the team meets or exceeds their goals
Once the system has created the team profile a team report can be made available to individual team members. This report provides the individual with a collective profile of the team overlaid with his/her personal behaviour profile. 
The Shadowmatch Team Analysis functionality is successfully used for:
Team building sessions (based on the Shadowmatch Team Analysis). This session provides a very sound foundation for a team to get to know one antoher, understand where they are similar and different and how they will behaviourly interact with each other. It provides the manager with knowledge on how to allocate roles and responsibilities in a more scientific manner as well as engage with each individual in a precise manner.

Team conflict facilitation

Team onboarding (new team manager or team member)

Restructuring of teams and creating new teams

Team subgroup optimization

Team trends identification
Personal fulfilment and growth
Shadowmatch creates a Personal Portal for each individual who completes the Shadowmatch worksheet. This portal gives the individual access to his/her Introduction and Full Feedback Report.  The individual can request Relationship Reports from the portal as well as embark on a Personal Development Program.
Your personal portal gives you access to your Introduction Report as well as your Full Feedback Report. The Full Feedback Report provides an interactive graph that allows you to engage with your results. The Shadowmatch Personal Feedback Report is a comprehensive document with graphs and detailed outline of all the habits being mapped by the system. It provides individuals with a level of self-insight that empowers the person to better understand their own position with regards to numerous aspects of life such as relationships, career choices and career success. It can be used to understand stressors and possible failures being experienced by an individual.
You have the ability to update your personal information directly on your personal portal.
The Shadowmatch system gives you the capability to manage your personal relationships. This is done by means of the Relationship Reports functionality on your personal portal. By comparing your habits to that of another individual, you can learn what might frustrate both of you, which areas you can develop in the relationship and which behaviour areas can lead to relationship disconnectedness. The system offers 8 different Relationship Reports: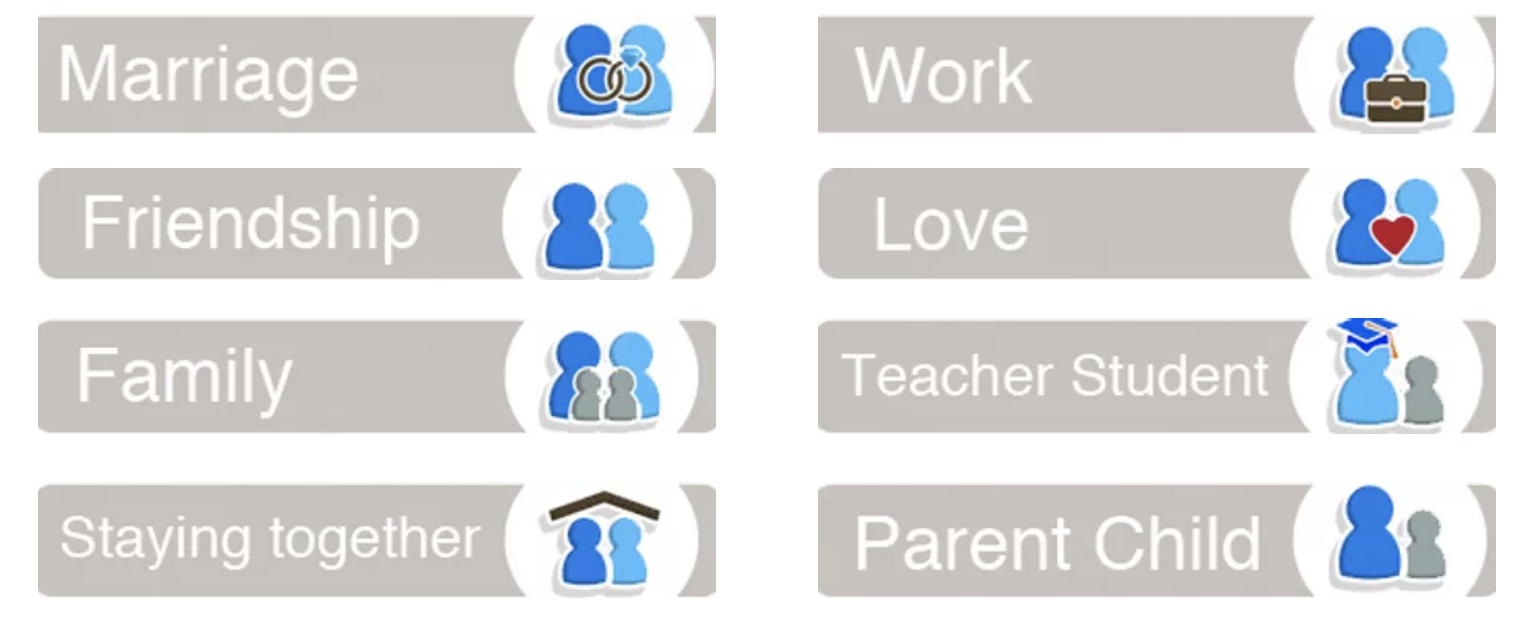 Personal development is a never-ending journey!  The Shadowmatch system provides 20 Personal Development Programs.  All the Shadowmatch Personal Development Programs (PDP's) are interactive and outcomes based.
When embarking on a Shadowmatch Personal Development Program, the system will require of  you to choose a mentor that would guide you through the development process. It is the task of the mentor to guide, support and assist you in successfully achieving all the required outcomes. All the PDP's are six to twelve months in duration. It is a Shadowmatch requirement to finish one PDP before embarking on the next one. You can choose to do a Personal Development Program for either business, sport or an academic environment.
GAIN INSTANT ACCESS TO OUR PLATFORM
The most established and successful businesses operating in the Middle East use gulfHR. Find out why Startups, Bluechips, and the Fortune 500 trust gulfHR as their HRMS provider.
Try the expert demo now to see the latest HR features and development in action.
Let's talk. We're only a call away
Find out why our clients can contact us at anytime and speak to one of our experts. Give us a call on +971 4 446 6308. Or request a callback below at your convenience.
Alternatively send us a message or an email to [email protected]